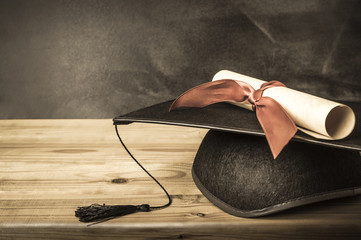 Image source via: www.fotolia.com
Prologue:
April 13, 2016 is the day that all of us, graduating students, anticipate for.
This will be the time we will receive our diploma; the one thing that we have strived hard for for four years. Four years of hardships to be able to finish studies. Four years of our parents' sacrifice for us to be able to continue schooling. Four years of blood, sweat, intelligence and determination.
The time that we will march in Philippine International Convention Center (PICC) is drawing close, having the promise that I will make my family's lives easier. Carrying my family's name, that at last, someone in the family will now finish college.
There have been so many people that helped us with our journey in school. And I owe them a part of my success. First, I would like to thank Lord God for the wisdom that He has given us. Second, for our families that trusted us and supported us all the way.Third, to our friends that helped us make life easier. We are lucky that we had the privilege to learn. I hope that we become an inspiration for other to continue striving to finish their studies, despite all odds. Congratulations to us Batch 2016 Graduates!
Epilogue:
Nevertheless, I offer this section to thank everyone behind the scholarship program I am into. I owe Manila High School Alumni Scholarship Program a lot because of the scholarship that they have given to me; to the donors that have made countless efforts in order to send students like me to school. We were only dreamers before, but now our dreams of finishing college is becoming a reality.
I was one of the privileged people to have this scholarship. I won't mention all of the people who are behind this program, because I do believe that the success of one of their scholar is also their success. It was just a dream before to finish elementary because we don't have money. But now, because of all of you, I have reached my dream of finishing college.
Let me dedicate to you my diploma on the day of our graduation. I promise that in the future, I will be the one to give back to those who have lent me a helping hand. Again, thank you very much for the trust and support!